Why did the cyclones Amphan, Yash and Sitrang wreak havoc in the Sunderbans? The answer is blowing in the wind – exhausting natural barriers.
The Goethe Institut/Max Mueller Bhavan, Kolkata, installed green pop-ups in three different locations in and around the city as part of Towards a Better Tomorrow under the Moving Kolkata, Kolkata. awareness about climate change and initiating an individual contribution to making a better planet.
Towards a Better Tomorrow, a collaboration between artists and people, was held under the auspices of the "European Spaces of Culture", conducted by the European National Institutes for Culture (EUNIC) New Delhi and Kolkata and funded by EUNIC Global, Brussels. Science City, Victoria Memorial and Kheyada High School were the sites of this unique pop-up installation where city artists, students and environmental organizations came together for charity.
Astrid Wege, director of the Goethe Institut/Max Mueller Bhavan, told My Kolkata: "The project 'Moving Kolkata, Kolkata Moving' includes a website with different voices and ideas about sustainability in the city, an exhibition in Delhi (of which Goethe Institut in the national capital) and Towards a Better Tomorrow. All these have to do with sustainability, especially in big cities, which contributes to pollution and climate change. Kolkata is one of the hot spots of climate change, that's why we have this pop- upstructure that travels to three different parts of the city to reach people."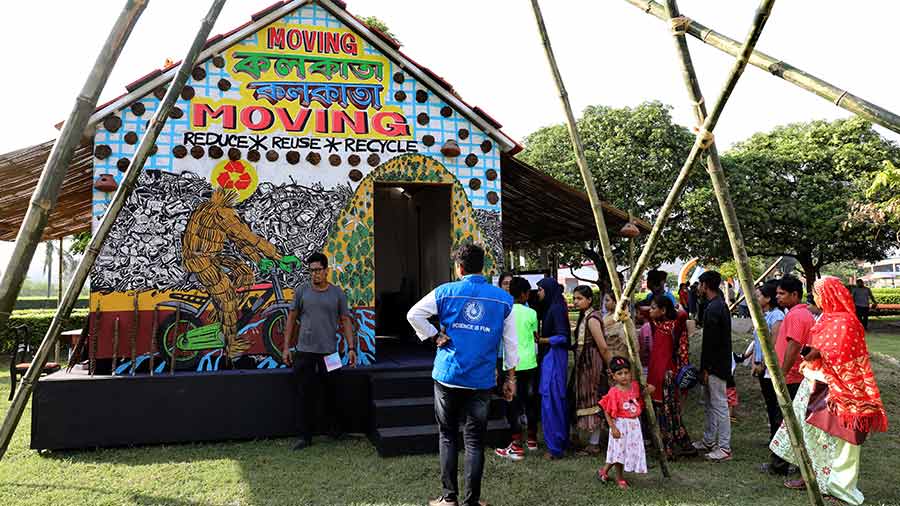 Photo by Arijit Sen/My Kolkata
On Sunderbans
The project theme Sunderbans kicked off on October 17 in Science City. Architect and art curator Sayantan Maitra designed the installation through videos, documentaries, virtual reality experiences, highlighting the need of the hour to save the adjacent mangroves of the Sunderbans from the harshness of climate change.
Sunderbans not only provides a community, but is also a barrier that protects the mainland from the wrath of nature. The house-shaped portable pop-up installation, designed by artists Sumantra Mukherjee, Anup Pramanik and team, housed a virtual reality experience showing the Sunderbans, its community and how it is slowly drowning. Another installation in the open area depicted the barrier or shelter that is Sunderbans.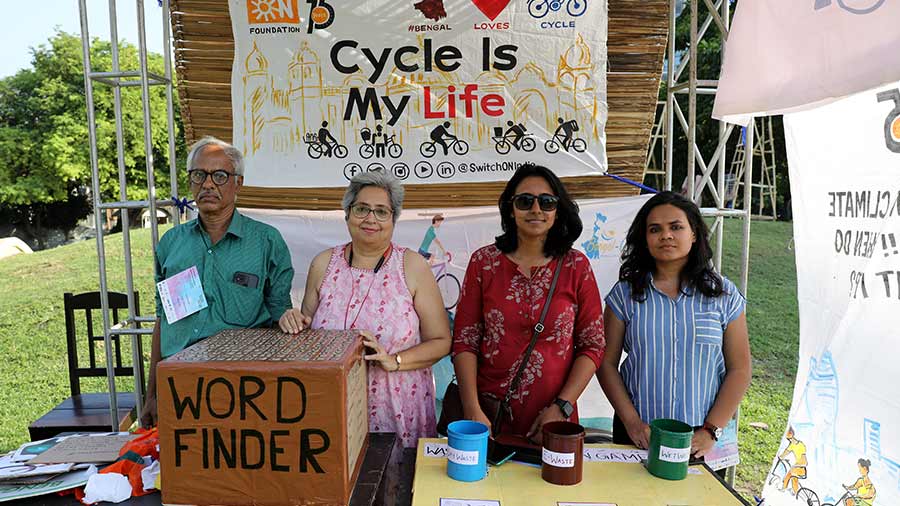 Photo by Arijit Sen/My Kolkata
Sayantan Maitra said: "I visited Sunderbans na Amphan and Yash to study how people can survive after these cyclones. We need to spread a message about the reality of climate change taking place in Kolkata and Sunderbans. This exhibition aims to educate people on climate change. We have some audios and lectures on climate change. We have videos of rising sea levels. We have stories about Sunderbans and climate change. We also have footage of people shooting the cyclone with their phones showing how they were affected ."
The Switch-on Foundation managed activities in the areas of waste separation, air pollution, word games and more. Gargi Maitra, Outreach Lead and New Initiatives manager at SwitchOn Foundation said: "In simple ways, we can make people aware of how their lifestyles affect climate change and how we can collectively reduce air pollution."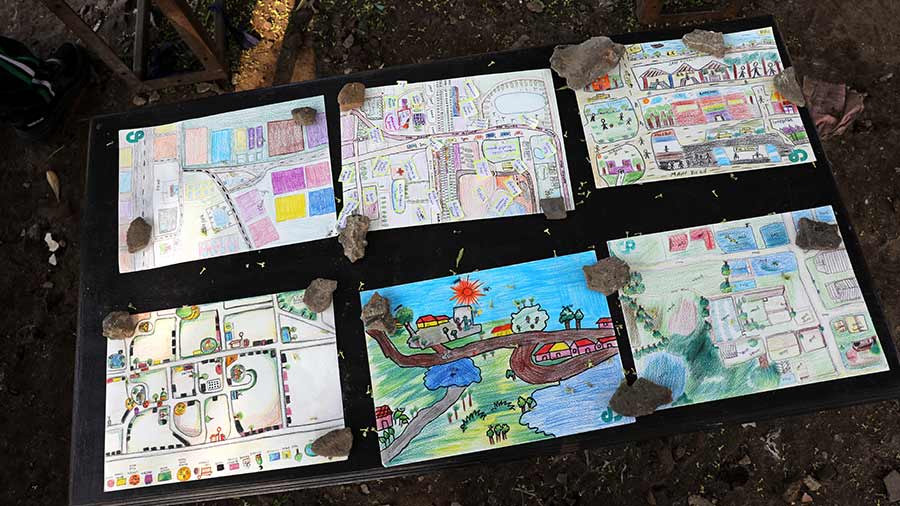 Photo by Arijit Sen/My Kolkata
Goethe Institut/Max Mueller Bhavan, in collaboration with Disappearing Dialogues, organized workshops for students from various institutes such as The Heritage, EkTara NGO, Future Hope and more. The outcome of these workshops culminated in activities curated by the students that made the public think about how they could individually do their part to save the environment.
Swetleena Ghosh, a class XII student at The Heritage School, recalls: "While brainstorming ideas at a workshop at the Goethe Institut, we came up with ways to get people to think about how they saw the atmosphere and think about their actions. It is our responsibility to restore the environment for future generations."
Science City Director, Anurag Kumar, said: "Climate change in Sunderbans will affect not only the people there, but also those who live here in Kolkata. We [Science City] Efforts are being made to become more sustainable on many fronts. We have already installed a large solar panel on the roof for power consumption. We are planning to set up our own waste treatment plant and are trying to develop a system to use the water from the pond [on campus] and irrigate at least part of the garden."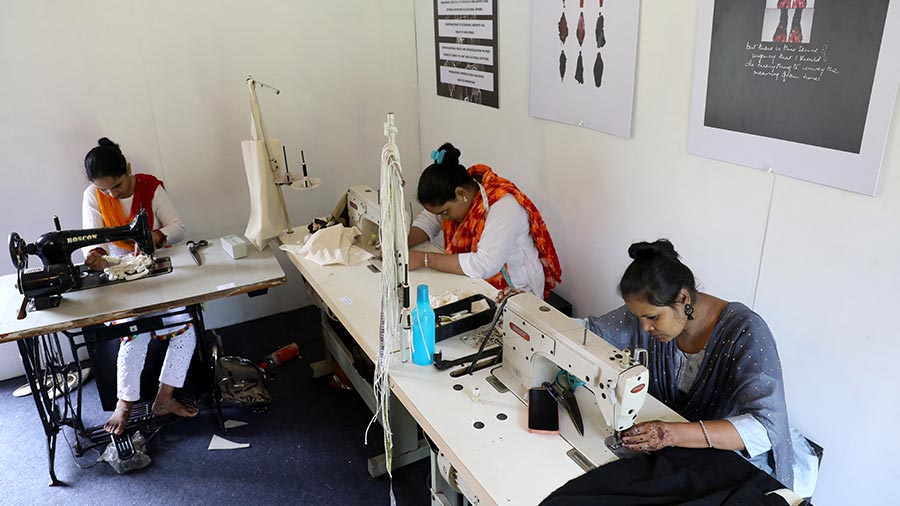 Photo by Arijit Sen/My Kolkata
About recycling and repair
On October 19, designer Kallol Datta put together sustainable fashion details to educate visitors at the Victoria Memorial Hall. Clothes were sewn in the mobile pop-up installation. According to Datta, "The project aimed to address claims of sustainable practices that were modified by humans in response to the climate crisis. The largest sustainable adaptive practice I can think of is cultural sustainability that deals with multiple notions of assimilation and integration. We collected clothes and students from design schools deconstructed and reconstructed these donated items into new garments. They were mainly concerned with recycling, repairing and reusing."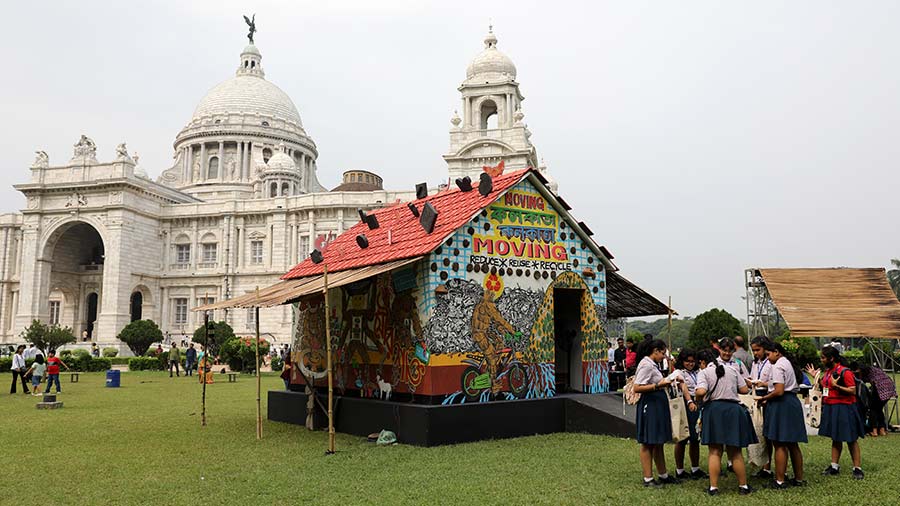 Photo by Arijit Sen/My Kolkata
The highlight of the exhibition was a block printing tent. Visitors were given bags, colors and blocks to make their own stuff. An installed photo booth gave them the opportunity to click on a photo with their bags and get an instant copy of the same as a souvenir.
Raju Raman, Program Consultant, Victoria Memorial Hall said: "Victoria Memorial is open to any kind of collaboration related to environmental sustainability, something for the future of humanity, recycling, repair and leaving the consumer world. These are very essential today and it can provide insight not only to the general masses, but also to the youth.We have our own composting machine and have facilities for bio toilets at both gates."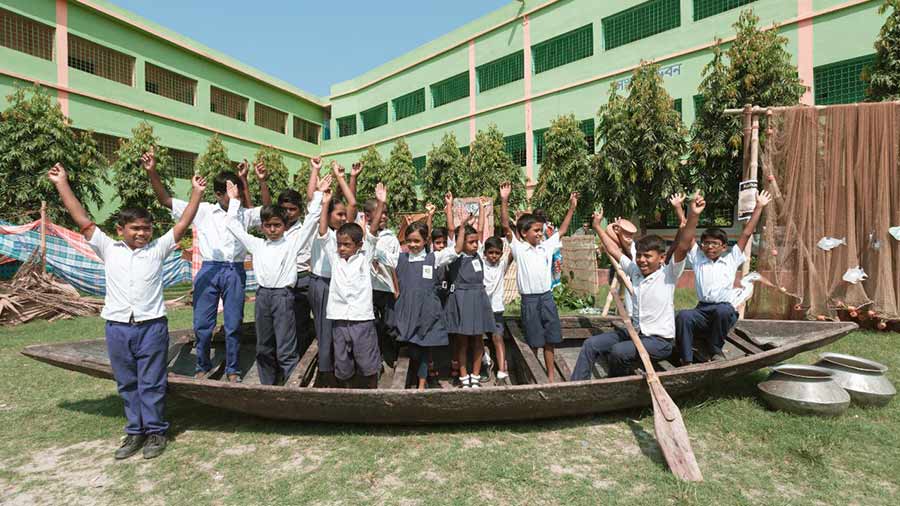 Photo by Goethe Institut/ Max Mueller Bhavan
On Wetlands
Disappearing Dialogues Collective at Kheyada High School, held on October 21, described the role of wetlands and their significance in relation to climate change. Aside from the visual documentation, activity packs and information sharing about the wetlands, the main highlight was 'The Wetland Trails', which was guided by the community children and the trail leaders.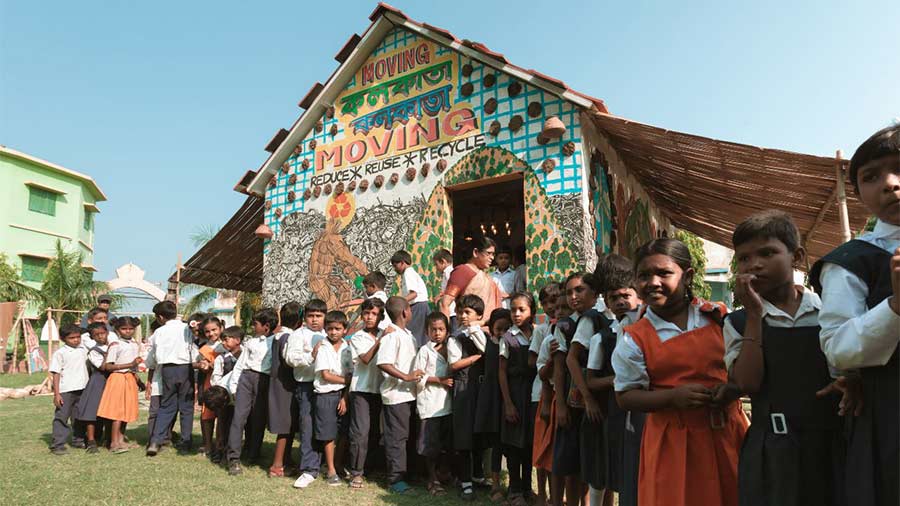 Goethe Institute / Max Mueller Bhavan
Sharmistha Sarker, Program Officer, Goethe Institut/Max Mueller Bhavan, said: "Towards A Better Tomorrow was conceived because it was necessary to raise public awareness of the important issues related to the environment and its sustainability. It was important to us to approach Science City and Victoria Memorial Hall or even Kheyada High School, part of the Eastern Kolkata Wetlands. This partnership brings together key stakeholders. This partnership was important because together we were able to achieve a certain level of change. We are not trying change the world, but do a little bit to make people aware of what's going on around us and perhaps motivate them to live more sustainable lives through simple practices to follow at home."